Introduction of Master of Arts in English Teaching Methodology Programme
MASTER OF ARTS IN ENGLISH TEACHING METHODOLOGY PROGRAMME (MATEL)
(Issued in accordance Decision 2140 QD–DHNN dated October 11, 2018)
The MATEL Programme Specification 

MATEL Programme was originally approved by Ministry of Education and Training in October 1991, and the first intake occurred in 1992, and ever since it has undergone a number of revision efforts, the latest of which happened in 2015. The programme specification is the most important tool for implementing the MATEL programme, providing most essential information about the programme students and all relevant stakeholders.

The programme is a two year credit-based one which adopts advanced teaching and learning approaches like learner-centeredness, learner autonomy, and social constructivism. Assessment is both formative and summative, and geared towards expected learning outcomes.

It is called "Chuong Trinh Thac Sy Li Luan va Phuong Phap Day Hoc Bo Mon Tieng Anh – Master of Arts in English Teaching Methodology". Having met all the requirements as stipulated in the programme, learners will be awarded the Degree of Master of Arts in English Teaching Methodology, signed by the President of ULIS. Most of the graduates work at high schools, universities and colleges, or as English language specialists in provincial departments of education and training. Some go on to study for a PhD in Vietnam, or win doctoral scholarships overseas. Others get promotions upon completion of this programme.

Program structure
65 credits, of which, 32 credits of compulsory courses, 18-24 credits of elective courses and 9-15 credits of MA thesis (40-80 pages; 12.500-25.000 words)
Total number of credits of the training program: 65 credits, in which
– General knowledge block (compulsory):           08 credits
– Basic and specialized knowledge blocks:          42-48 credits
+ Compulsory:                                                      24 credits
+ Elective:                                                            18-24 credits
– MA thesis:                                                          9-15 credits
Details of training program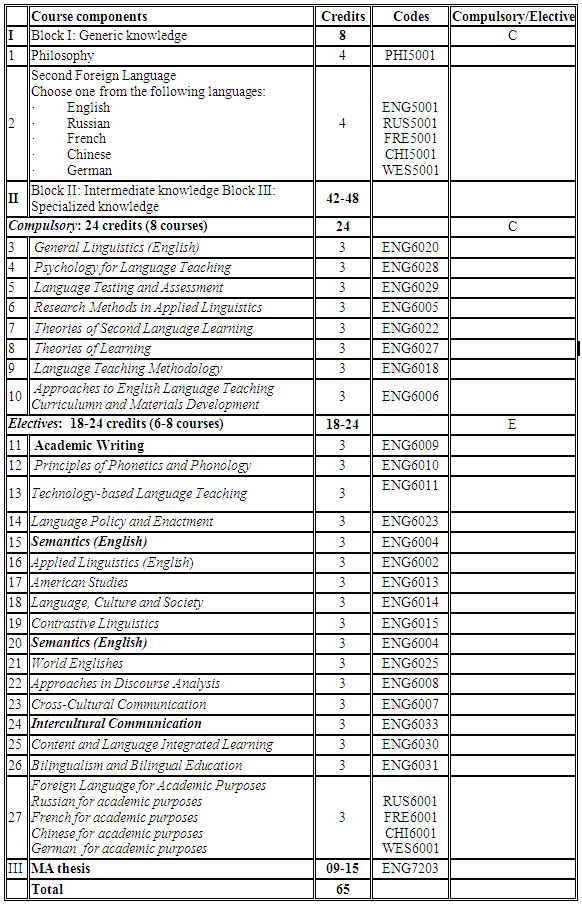 3. Training time 
2 years of full time training with at least 18 consecutive months of taking taught components on campus.
In certain circumstances, students can have 1 year of extension.
Tuition fee
The tuition fee for international students is subjected to change annually: The current tuition fee is 60.000.000VND per annum (US$2,730 approximately) plus US$200 registration fee.
Visa fee: 135 USD/ year (as by Immigration Department – Ministry of Public Security, Vietnam)
Hostel fee: 40 USD/ student/ month (room of six) or 250 USD/ month (single room)
NOTE:  Students will be assisted in getting a study visa (with multiple entries) on arrival at the International Airports and the tuition fee will have been paid before getting any visa assistance.
Scholarships
Annually, ULIS – VNU awards scholarships to international students registered in M.A programs. The amount awarded can vary depending on the current financial aid policies of ULIS – VNU. The maximum amount awarded is equal to three-fourths of the tuition fee a student pays for one academic year.
International M.A. students who have articles published in ISI and Scopus indexed journals during their study at ULIS-VNU are awarded 32,000,000 VND (thirty two million Vietnamese Dong) per article.
Certificate awarded
Master of Arts in English Language Teaching Methodology
For further information, please contact
Mailing Address: Room 102 – Block A3 – University of Languages and International Studies, Vietnam National University, Hanoi, No2 Pham Van Dong Road, Cau Giay District, Hanoi, Vietnam
Tel: (+84)24-66806770; (+84)24-37547435
Website: http://saudaihoc.ulis.vnu.edu.vn
Email:   sdhcfl@gmail.com